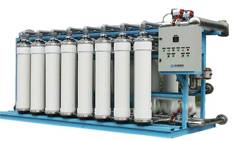 Industries such as chemical and pharmaceutical manufacturing, food and beverage processing and wastewater treatment, employ ultrafiltration, or membrane filtration, in order to recycle flow or add value to later products. The main benefit of ultrafiltration (UF) is its ability to purify, separate and concentrate target macromolecules in continuous systems. The removal of these impurities ensures quality high purity water for manufacturing and laboratory applications. Ultrafiltration does this by pressurizing the solution flow through multiple mediums to remove water impurities. Our certified installation technicians will install your system and perform tests to verify the water quality. Water purification is a simple as a phone call to Besco Water Treatment, Inc.
Customized Ultrafiltration Water Installations
Besco Water Treatment Inc. is well acquainted with ultrafiltration systems. Our standard line of water treatment designs is based on the variety of high purity water needs that our commercial and industrial clients encountered over the years. A familiarity with applications and their uses allows our water treatment engineers to design centralized ultrafiltration systems for lab or commercial use. Implementing our water purification systems means minimizing the impurities, helping to achieve high purity water for your company. Our designs are modular and can be easily customized to your project's specifications. For example, a standard ultrafiltration system for high purity water generally includes:
Multiple pre-treatment steps including activated carbon filtration and water softening prior to feeding a reverse osmosis unit and a product water storage tank.

The post-treatment steps include re-circulation pumps, mixed bed deionization tanks, ultraviolet sterilization, and sub-micron post filters.

The entire system is skid-mounted, pre-piped, pre-wired and tested.

The standard design produces Type II reagent grade water as set forth by ASTM and CAP standards. Other specs can also be met.
The benefits that high purity water have in commercial or lab situations is invaluable. Our ultrafiltration water treatment systems deliver the water you need for circuit board manufacturing, parts & electronics and all types of high-spec, lab-grade applications. Water purification from Besco Water Treatment Inc. means unmatched high purity water. You will notice the differences and so will your customers. Fill out our free online estimate form or call (800) 964-0257 to get started today!