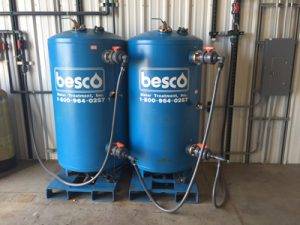 More water is used in this industry than any other in the world. From an ingredient in foods and beverages, to a cleaning agent, to boiling and cooling food products, clean water is a necessity for the Food and Beverage Industry. With water shortages in many states and countries, it has never been more important to conserve and manage water.
If you are in need of expert guidance in managing your water needs in food or beverage, turn to Besco Commercial Water. Our 50 plus years of experience will serve you well in answering your questions about your water requirements and will provide you with valuable knowledge of solutions that are tried and true, and some cutting-edge.
Food & Beverage Water Treatment Applications
Besco engineers will guide you through the steps of pre-treatment, membrane filtration, reverse osmosis and even ultrafiltration where demands require. We're a U.S.-based company that is very familiar with the water resources of all parts of the country, so we can quickly work with your team to get matters spec'd and your products online.
Call Ken Morgan at (800) 964-0257 or complete the form on this page for more information.