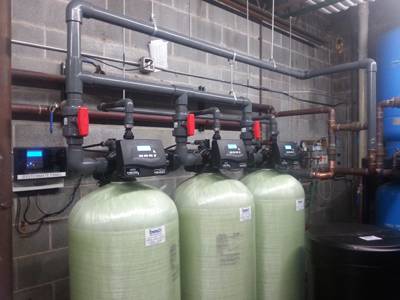 Quick Read
Water filtration is essential to create fresh, clean, contaminant-free water for your business. Besco Commercial Water Treatment offers a range of industrial water filtration systems to fit the needs of your business, no matter what they are.
Our systems can:
Make manufacturing easier
Save your business money
Increase efficiency
Make your business more sustainable
We can assist in just one phase of the filtration process or all of them by building a system specifically designed for you. Call us at (800) 964-0257 or fill out our online form to get in touch with us today.
Life can't function without clean, potable drinking water. It is the basis of life, and the basis of many businesses across a range of industries.
At Besco Commercial Water Treatment, we can assist your business throughout all phases of the drinking water filtration process, from coagulation, flocculation, sedimentation, filtration, disinfection and preparing the finished product for distribution.
Water filtration is essential because it is used every day by everyone. It's integral to many industries to have water filtration systems in order to create fresh, contaminant-free water used for any industrial process your business demands.
Drinking Water Treatment Applications
Besco Commercial engineers can help you provide high-quality water at the lowest cost possible. We work with membrane applications to disinfection processes depending on your situation and needs.
Have new standards that need to be met? Besco Commercial can work with your team to solve the challenges and keep you in compliance and on budget.
Benefits of filtration in industrial applications
Whatever your industry: automotive, food and beverage, pharmaceutical, oil and gas, energy, and many more, industrial filtration systems can make manufacturing easier.
Reduced maintenance costs: Industrial filtration can cut costs for your business, because it helps to protect the life of your equipment. Using filtered water keeps contaminants away from your equipment, and equipment that is functioning at its best will result in fewer repairs and less downtime.
Lower energy costs: Many new industrial filtration systems make it possible for your business to save money on energy costs. Besco offers many types of systems and can build one to your specifications. By exploring different options, we can find the most economical solution for you.
Increased efficiency: Many filtration systems can be engineered to help you recycle and reuse wastewater, creating water security for your business. If your plant has a "Zero Liquid Discharge" policy, Besco can create a water system to meet those standards.
Sustainability: Increasing concern about the environment and having a fresh water supply is causing companies to choose more sustainable options like treating wastewater and reusing as much water as possible.
Types of industrial filtration systems
Besco Commercial can provide your business with any water filtration system your industry demands. Two common systems for industrial water filtration are ultraviolet systems and reverse osmosis systems.
Ultraviolet Purification
UV light disinfects water by changing the environment for microorganisms to live in, allowing them to die off and keeping the water free from contaminants.
UV systems are natural, environmentally-friendly and chemical-free. It's an easy-to-manage system and low maintenance. On the other hand, UV systems only eliminate microorganisms and don't remove contaminants like heavy metals.
Reverse Osmosis
Reverse osmosis (RO) systems purify water by using a semi-permeable membrane with fresh water on one side and salt water on another. Water pressure pushes the salt water through the membrane, removing many large particles in the water.
RO systems are a great option for many industries because they are long-lasting and easy to maintain.
Get a free water filtration quote from Besco Commercial Water Treatment today
We have the knowledge, experience, and references to assure you of our qualifications to get your job done. Call Ken Morgan at (800) 964-0257 or fill out our online form to get started now.