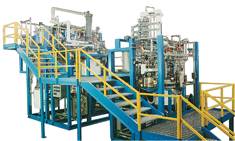 Our pilot plants services are designed to test your water treatment processes in a low-cost and small-scale way. The results of our pilot plant services can serve as a basis for achieving your water quality standards.
Pilot Plant Applications
Our pilot plant equipment allows you to compare and analyze the best possible design for a water treatment facility, or to optimize an existing water treatment method. With a pilot plant, the risk is minimal, so experimentation can be done without compromising the public water supply and it will give you solid results before you invest in a larger facility. Our pilot plant services also serve as a way to educate through demonstration or training.
Besco Commercial offers pilot plant services that are perfect for both small and large operations. We tailor our services to every client to ensure the best possible service. If you would like to rent out pilot plant equipment for research purposes, Besco Commercial Water Treatment would be glad to assist with your pilot plant needs. See some of the areas we serve and some case studies showcasing examples of our work. Call Ken Morgan at (800) 964-0257, or complete the form on this page for more information.