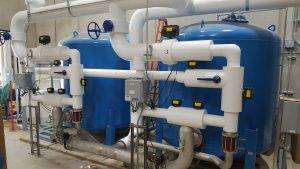 As you will note from the drop-down menu above Besco Water treatment has a long heritage of experience and knowledge in all types of commercial water purification and treatment solutions. Search the service that you are looking for and complete the "contact us" box forms or call us at (800) 964-0257 and ask for our General Manager, Ken Morgan.
---
Partial List Of Water Treatment Clients
We pride ourselves on maintaining a highly-skilled staff and delivering your project on time. As a partial list of clients we have served in the past few years, please find:
MPI Research
Kellogg Co.
Ford Motor Company
United Solar Ovionics
Denso U.S.A
Kellogg Food and Research
Michigan State Procurement
Grand Valley State Medical Research
Michigan State University Research
Michigan State University Cyclotron Lab
Kellogg Community College
Philip Morris/General Foods
Sparrow Hospital
Pfizer Co.
General Motors Grand River Plant
General Motors Stamping Plant
General Motors Lansing Plant
Delphi/General Motors
Nissan Farmington Hills
Musashi Auto Parts
Cytec Industries
Grand Trunk
Koyo Corp.
Bronson Health Systems
Gerber/Nestle Foods
Borisch
Korex-Canada
International Hard Coat
Gratiot Finishing
XG Sciences
United Engineering
HP-Data Centers
Korex-US
Google
Clemens Food Group
Firekeepers Casino
Hope College
Post Foods
Mary Free Bed
Spectrum Health
Armstrong World Industries
Gallagher Laundry
Continental Linen
Seaver Finishing
VA Medical Center