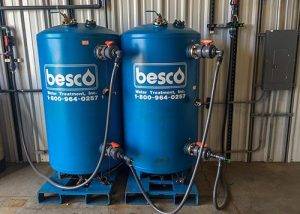 Water is a big factor in the oil and gas industry. Besco Commercial Water Treatment has the knowledge and expertise to meet today's stringent standards and yet still bring the project in on time and on budget. If your business in the energy industry is in need of affordable water services, Besco Commercial will provide the solutions to your fuel industry challenges.
Industrial Water Treatment Solutions
Meet your regulatory compliance with advanced thinking like the reuse and recycling of water in downstream operations to minimize the need for fresh water. It not only helps you meet government regulations, it protects our environment for years to come. Besco has filtration technologies and membrane technologies that will lead to a high water recovery rate and "zero liquid discharge." It only makes sense to maximize the reuse of your water, especially at some of the remote drilling locations.
Interested in our services? See some of the areas we serve and some case studies showcasing examples of our work. Please call Ken Morgan at (800) 964-0257 or complete the form on this page for more information.