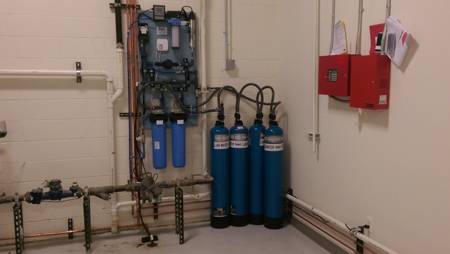 If your laboratory, plant or municipality is in need of an ultraviolet water treatment system, call Besco Water today. For more than 50 years now, our water treatment engineers have been providing high-quality commercial water purification solutions at competitive prices. Our highly-skilled staff have a depth of knowledge when it comes to UV water treatment, and they will deliver a professional UV water system application that will leave you with the pure, laboratory grade water you need.
The Basics of UV Water Treatment
UV water treatment has a wide array of commercial applications, whether it's for beverage filtration or cleanliness in a laboratory setting. Ultraviolet treatment has been used in purifying some fresh juices, like apple cider, to comply with Food and Drug Administration standards. In the lab, washing essential tools and equipment, such as safety goggles or pipettors with UV treated water has been effective in the disinfecting process between uses. Ultraviolet water purification has also seen some use in aquariums and ponds as a means to help control microorganisms and harmful pathogens, thus increasing water clarity and preventing the spread of disease in aquariums.
Ultraviolet water purification or Ultraviolet germicidal irradiation (UVGI) works by using short-length UV waves to kill or inactivate bacteria and other microorganisms. UV water purification can be used on surface water or well water and is more cost and labor efficient in comparison to a number of other filtration methods. Simply put, the systems are cheaper and easier to use.
UV Water Treatment Applications
Ultraviolet systems are best used on water that has already gone through reverse osmosis, as larger suspended particles in the water may block the radiation, but UV water systems can often be coupled with a pre-treatment system to eliminate those larger particles.
Whatever your UV water purification needs are, Besco Water Treatment will deliver a solution on time and on budget. See some of the areas we serve and some case studies showcasing examples of our work. For more information on our water treatment installations or our UV water system services, call Ken Morgan at (800) 964-0257 or complete the form on this page.