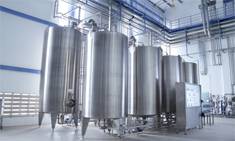 If your industrial application requires ultrapure water with low levels of dissolved gases and other contaminants, degasification will increase the life of your equipment, processing your applications by preventing and controlling corrosion. Dissolved nitrogen, oxygen and carbon dioxide can be detrimental to processes that require ultrapure water, so choosing the right system, from the right experts is paramount to your operation.
In some cases, degasification by gas-liquid separation membranes are recommended. In others, a high-efficiency vacuum degasifier. In either case, Besco Commerical can help you evaluate your needs and provide a reliable and economical solution for your project.
High-Efficiency Water Degasifier Systems
By forcing a column of air over a thin layer of down-flow water, you allow gases and other volatile substances to escape and vaporize into that stream of air, thus creating the safe, pure water you need.
The degasifier has three main components: a tower, a blower and a sump. It is mechanical and does not need chemicals to operate. It runs on electricity.
Degasifiers are not a replacement for boiler feed systems, but they will work in perfect harmony with activated carbon filters for almost complete removal of gases and other contaminants.
See some of the areas we serve and some case studies showcasing examples of our work. Call Ken Morgan at (800) 964-0257 or complete the form on this page for more information.