If you are in research or in a diagnostic lab, having purified water so that your test results are not impacted and that your valuable lab equipment stays clean and sterile is a priceless asset. In today's modern world of high-tech testing equipment, the need for reagent grade water is essential. Besco Commercial can install lab water purification systems that will provide you from 1 liter to up to 1,000 liters of pure, reagent grade water per day.
Type of Lab Water
Reagent grade water or lab grade water is water that has been purified to the point that it is suitable for sensitive analytical procedures that are regularly conducted in a lab setting. Typically, reagent grade water can be classified into four different grades or "types":
Type I
Type I grade reagent water is used when maximum accuracy is required. It is needed for processes such as enzymology, flame photometry and pH determination.
Type II
Type II grade reagent water is used for most general lab testing such as hematological, serological and microbiological procedures. Type II water must be free of organic impurities.
Type III
Type III grade reagent water is permitted for use in lab testing that doesn't require a higher degree of purification. Rinsing samples, urinalysis and washing glassware are some typical uses of Type III water.
Type IV
Type IV grade reagent water is the lowest purity rating for reagent grade water and it is typically used for reverse osmosis, electrodialysis and ion exchange.
Laboratory-Water Filtration Systems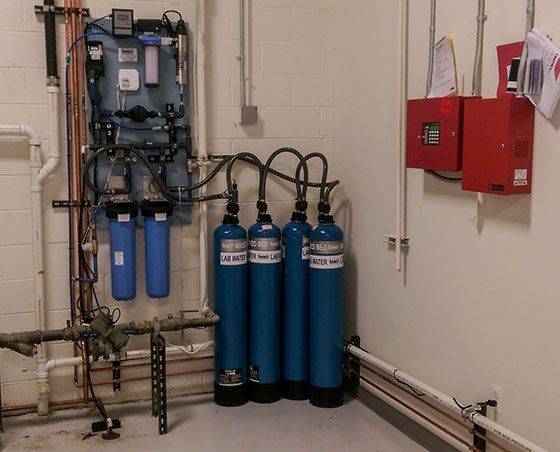 Besco Commercial offers designs that can combine pretreatment, reverse osmosis and ionic/organic removal all in one unit. Whatever the specific needs in your lab are, Besco Commercial will provide you with the knowledge and experience to meet your most stringent reagent grade water requirements with a range of configurations to support top-level, critical applications.
See some of the areas we serve and some case studies showcasing examples of our work. To learn more call Ken Morgan at (800) 964-0257 or complete the form on this page for more information.