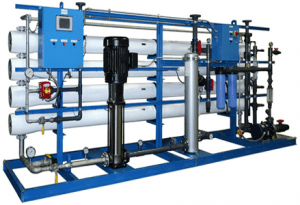 Reverse osmosis systems (RO systems) are one the most convenient and economical methods of filtering out unwanted contaminants in your water. Reverse osmosis is the process by which water molecules are forced, by water pressure, through a semi-permeable membrane. Most of the impurities and other contaminants are rinsed to the drain while the refined water is routed to a special holding tank.
This results in water that looks, tastes and smells better. Reverse osmosis will remove particles that are as small as 0.001 microns, making it far more effective than standard filtration. Generally speaking, a reverse osmosis membrane will remove approximately 90-98% of any given contaminating element in your water. Depending on water pressure and membrane type, the removal rates could be as high as 98%.
Our Reverse Osmosis Systems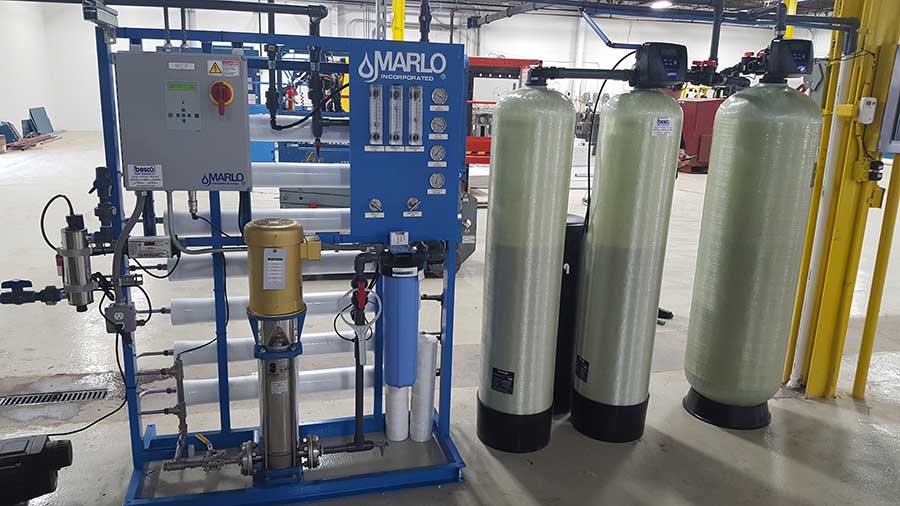 Our commercial reverse osmosis systems feature horizontally-installed membrane housings for maximum product output and minimal floor space requirements. To reduce installation time, Besco Commercial Water Treatment offers skid-mounted packages that will save on the project's costs. Our flexible design provides your commercial water filtration system with simple customization to fit reduced space requirements too.
We are eager to review your project's details and quickly craft a specific plan and proposal to meet your needs. Call Besco Commercial General Manager, Ken Morgan, at (800) 964-0257 to discuss your needs.
Features and Benefits of a Reverse Osmosis System include:
Aside from the fact the reverse osmosis water treatment systems yield high-purity water for use in various operations, Besco Commercial specifically adds several other benefits in terms of installation and operation. These benefits include the programmable logic controllers that come complete with operator lights and switches for simple use. Our panel-mounted product, reject and recycle flowmeters with an optional digital display, and stainless steel system pressure gauges and sampling valves all make getting readings from our systems easy. Our reverse osmosis systems also include a pre-wired motor starter, low inlet pressure and high pump discharge pressure switches with alarm, and pre-treatment interlock systems can easily tie into existing plant management software.
Optional Reverse Osmosis Systems Packages:
Skid-mount Packages
RO water filtration systems are available with necessary pre-treatment and re-pressurization equipment mounted to a carbon steel skid and prep-piped/pre-wired. This greatly reduces installation time and costs.
Clean-In-Place Packages
For periodic cleaning of the membrane elements to remove mineral scale, this package includes: skid mounted and pre-wired transfer pump, batch solution tank, inlet filter housing, isolation valves and quick disconnect cleaning ports.
Besco Commercial can engineer a complete reverse osmosis system that can accomodate the needs of your business or plant. See some of the areas we serve and some case studies showcasing examples of our work. Contact us today at (800) 964-0257 to discuss a water treatment system that's right for you.